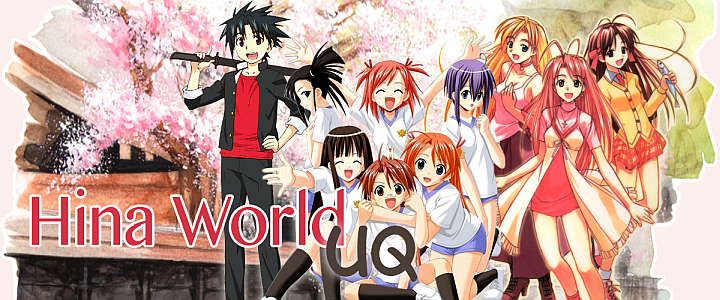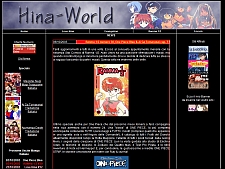 03 March 2010
A year has passed again and the candles on the cake
have become seven
. I do not know how many of the original users still navigate these pages, probably only myself, but despite the years the passion and the will to carry on this site
are always burning
. This is the first time for english speaking users to celebrate the HinaWorld anniversary so I would take up a bit of the site's history maybe unknown for most of you. HinaWorld is obviously
based on Love Hina manga
which remains and always will be the central focus of the site. I had the luck to know this handsome story in December 2002 when I found it by chance on a website (I forget the name) from which you could download the fansubbed episodes. I saw the 30 anime episode in one shot and after I joined to an online community through which I met many fans of Love Hina (including Sako, the author of the site grapichs) also finding out that the manga serialization was started in Italy and was out until sixth volume. My appreciation was so much that I decided,
cause the lack of an italian site with enough information
, to create a portal called Hina World
which means the World of Love Hina
. It went online on 2003-03-03, a date that also coincides with my first day of work! From the very beginning it was a simple black page with the classic table pagination on which I start to enter the first materials found on the net. In May there was another important milestone in the history of the site,
the born of the manga translations section
with the publishing of first Mahou Sensei Negima chapter. After few months the section was expanded to other titles. The significant increasing of users and a growing number of material
had make me the decision to build a more modern graphics
.
So in September 2003, thanks to
Sako
, was created a new HinaWorld version called
Again
, like the OAV sequel of the Love Hina anime. Here we find
the orange base interface color which still continues to be the main tone of the website
. The sections were upgraded and modernized, especially scanlations that became the very soul of the site (although personally I still hope that HinaWorld was seen in its entirety and not just a section).
Another upgrade came in 2006
when the graphics was changed again to accommodate several choices I take as the removal of sections of Ranma and Evangelion, never completed, or the
birth of the ones related to other Ken Akamatsu's works
. This release
was also characterised by a series of innovations
which had some ups and downs like the forum, the opening of scanlations section to other group works, the first english version and the delete of editorials when I could hardly keep up to update news. Now
we have reached the seventh year of life
with this new graphics recently renovated, many ideas wait for being developed and, as always, few time to work on. But my interest is at the top so in the future I hope to be able to return a little in the glories of the past. Only time will answer this question while in the meantime I can only wish an
happy birthday to HinaWorld
and a good time at all of you who browse our web site!
You may be interested in...