25 candles for Super Mario!
Opinioni
It was September 13, 1985 when a small mustachioed plumber made his entrance in the world of video games with the release of the first console in history, the Nintendo Famicom (in Europe as NES, Nintendo Entertainment System). Since then the adventures of Super Mario Bros and his brother Luigi have followed in the years to become a trademark of the japanese company. I live the early Mario's apparition when I was a child, so I want to leave a small thought in HinaWorld's pages. Super Mario Bros appeared in Italy only in 1987 when the Famicom (short for Family Computer) was finally put on sell as the Nintendo Entertainment System, the first console which can be connected to a television.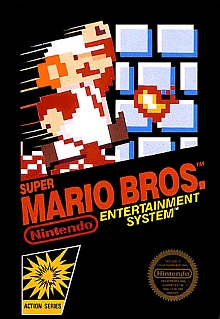 My peers will remember the famous ad where the family gathered around the TV playing with the robot, later sold as optional tool. Since then the fame of Mario has grown up until the last title, Super Mario Galaxy 2. About the history of the character, from the origins of Italian-American until his very first appearance in the video game Donkey Kong, you can find on internet pages and pages of information.
Several chapters for the NES comes out after the first one and I must say that the passion I put on playing them is no longer able to prove in today's titles. The graphic was 8bit and midi and musics were based on a very limited capacity processors. This had led to ensure that on every aspect of the game must be put a great attention to detail and above all use 100% of all available resources. In each chapter there was also a special treat to the history that took place during the adventure and follow the player who, unlike today, did not limit its assessment to the graphics, the gameplay and the music but to a set of elements of much more depth and feeling.
Mario, on the perfect Japanese style, was also turned into an animated version first aired on Italy in 1989 so we can go near the specific themes of HinaWorld. The dialogues were designed by the great Enrico Carabelli (author of the famous script adaptation of Saint Seiya), which were tied in the middle, probably choice dictated by commercial reasons, the series on the console allowing you to connect and remember names, situations and objects "experiences" personally during our play.
Despite the years, Mario is certainly a beautiful childhood memory linked to many situations lived about twenty years ago. I think for almost thirty-something like myself represents an element to be preserved and perhaps to remember how he came to us in 1987, leaving out the most current versions, certainly more cold and soulless.
Happy Birthday Mario, I wish you another 25 years of glory!